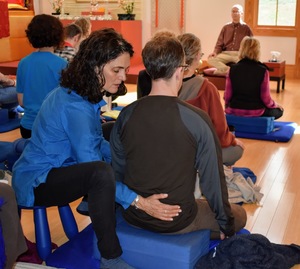 Shape of Awake Weekthun
with Hope Martin
We welcome the return of Hope Martin for the tenth year leading this unique retreat which includes daily highly skilled hands-on work by the instructor.
The retreat qualifies as a weekthun for the Way of Shambhala advanced program requirements.
"To take this posture itself is the purpose of our practice.
When you have this posture, you have the right state of mind,
so there is no need to try to attain some special state." - Suzuki Roshi
Being upright is not just an arbitrary shape; it's a perfect expression of meditation itself. In this week of intensive meditation practice learn principles from the Alexander Technique and Focusing to cultivate ease, equilibrium, and non-striving in your meditation practice and in your life. Through Hope's hands-on work, making subtle adjustments to the relationship between the head, neck and back, you'll learn to access effortless, balanced posture—light and grounded. The week will provide ample time to develop awareness of and befriend habits that result in tension, pain, fixed posture and mind-set, and to learn skills to shift to a more open, expansive, and balanced way of being.
Discover how being fully present and at ease in your body can transform your practice!
Open to new and experienced practitioners.
If price is an obstacle, or you have any questions or concerns, please contact [email protected]
Travel days are Saturday, March 21 and Sunday March 29. Please plan accordingly so that you can participate in the full seven day retreat.
Lodging with Sangha members may be available for out of town participants. Ask about it.
Half of the tuition is due as a deposit at the time of registration. The balance is due by March 1, 2020. Contact [email protected] for questions about our reimbursement policy or with other questions.

"Hope Martin is a gentle, wise, and gifted teacher. The program she has developed for The Shape of Awake affected me deeply. Her layering of Alexander techniques with meditation teachings is unique and transformative." - Barbara L. Fredrickson, Ph.D., Author of Positivity and Love 2.0
"Hope's years of experience with meditation and her deep knowledge of the body/mind connection provided incredible insights. I learned more about my body that week than in my whole life. Hope showed me how my body works, why and how my habits developed, and how to work more gently with my body and mind during practice." - Tim Fischer
Read about Hope's work with the participants at 2015 Yarne, the annual retreat at Gampo Abbey, published in the Shambhala Times.
Hope Martin has taught the Alexander Technique for more than 30 years and operates Hope Martin Studio in New York City. She maintains a lively private practice and is a Senior Teacher training Alexander teachers at the American Center for the Alexander Technique where she served as Chair of the Board of Directors for 10 years. Hope is a Meditation Instructor and teacher in the Shambhala Buddhist tradition and is a Focusing trainer. She is a close student of Pema Chodron's and has been her cook and attendant for 26 years. Her particular passion is in assisting her students discover how easeful, upright posture is an expression of their human dignity, confidence, and innate wakefulness.