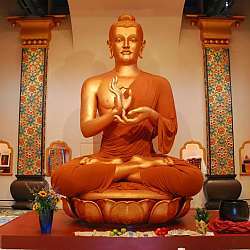 Self/No-Self: The Nature of Ego & the Foundations of Mindfulness
with Valerie Morvan & Christopher Wenger
NOTE: THE FINAL THREE SESSIONS OF THIS CLASS WILL BE HELD ONLINE APRIL 1, 8, & 15.
T
his class will examine how ego continually constitutes itself through the five skandhas (or aggregates) that are the basis of what we conventionally think of as the self. Using Chogyam Trungpa Rinpoche's teachings on the four foundations of mindfulness, we will explore each of the skandhas, how we work with them in the practice of meditation, and how we can unwind the habitual assumptions and patterns of perception that hinder us from waking up to our true nature.

This class is open to everyone. It is part of a series of classes using
The
Profound Treasury of the Ocean of Dharma,
a three-volume set of teachings
by Trungpa Rinpoche
.
Readings will be taken from Volume One:
The Path of Individual Liberation
.
This series is an opportunity to dive deeper into the foundational texts and practices of the Buddhadharma. The teachings in all three volumes of
The Profound Treasury
have been compiled from three-month practice and study retreats called seminaries that Trungpa Rinpoche presented from 1973-1986.
Participants will need to own or have access to a copy of The Path of Individual Liberation, which can be ordered here.