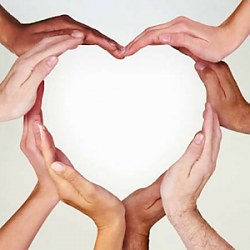 Compassion Practice - 1st and 3rd Mondays
This practice is cancelled until further notice due to waning interest.
On first and third Mondays of the month we take time to rouse compassion with these ancient practices for current times. The Dharma is always up to date no matter what century. In order to have compassion for others, we have to have compassion for ourselves. Practicing loving-kindness and care for ourselves helps us to expand our capacity to help others. As we rouse windhorse and touch in with our "soft spot," basic goodness, the power and strength that resides in our broken heart flies out to all beings.
Tonglen
Tonglen is a simple yet counter-intuitive meditation practice for difficult times. It reverses the flow of ego and helps us connect to our own suffering and the suffering of others.
Four Immeasurables
(1) Immeasurable loving-kindness
(2) Immeasurable compassion
(3) Immeasurable joy
(4) Immeasurable equanimity
Because sentient beings are as limitless as space, our practice of these four virtues must also be immeasurable.
Four Wishes
May all be free from danger
May all have mental happiness
May all have physical happiness
May all have the ease of well-being