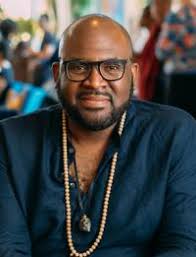 Liberation Through Love and Rage - a Full-Day, Online Retreat with Lama Rod Owens
Sunday, April 4
10am to 5pm (Eastern)
(Registration will close at 9:15am to ensure everyone receives the Zoom link for the event)
Cultivating our anger and rage through love means that we begin to experience the hurt beneath them. We are learning how to witness and experience, not react over and over again. When we develop this agency, the energy of our anger and rage can be channeled into helping others instead of hurting others.
As Audre Lorde has written, there is so much data in our anger. One of the things we can learn is how to let our anger show us where we have been hurt. We can let this great unveiling happen through the profound practice of radical love. When we embrace this deep wish to be happy, then we can move into the cultivation of our anger, which can place us into a direct relationship with our rage. While anger is a reaction in the present moment to something that we have an aversion towards, rage is an intense experience that seems old and ever present.
Please be sure to include your email address when registering for this event. A meeting link will be sent to you.
Lama Rod Owens is a Buddhist minister, author, activist, yoga instructor and authorized Lama, or Buddhist teacher, in the Kagyu School of Tibetan Buddhism and is considered one of the leaders of his generation of Buddhist teachers. He holds a Master of Divinity degree in Buddhist Studies from Harvard Divinity School and is the author of Love and Rage: The Path of Liberation Through Anger and a co-author of Radical Dharma: Talking Race, Love and Liberation. Owens is the co-founder of Bhumisparsha, a Buddhist tantric practice and study community. He has been published in Buddhadharma, Lion's Roar, Tricycle and The Harvard Divinity Bulletin, and offers talks, retreats and workshops in more than seven countries.
You can purchase a copy of Love and Rage: The Path of Liberation Through Anger from Charis Books & More here.
This program is brought to you by the Atlanta Shambhala Center's Community Relations Commitee.