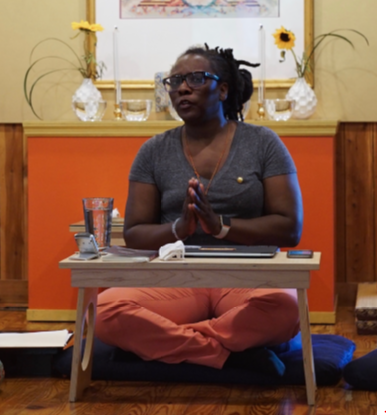 Decolonizing Dharma: Liberation in this Lifetime
with Dr. Shanté Paradigm Smalls
HOSTED BY THE ATLANTA
SHAMBHALA POC SANGHA
Decolonizing Dharma:
Liberation in this Lifetime
May 25, 7 - 8:30 pm
What is liberation and freedom in the meditation and Buddhist context? What could it feel like to be truly liberated and truly free? How can we attain it? For Black, Indigenous, and People of Color, our interdependent liberation rejects rugged individualism, sacrificing life and environment for material accumulation, and the construct of white racial supremacy.
Instead, the politics of liberation are rooted in introspection, self- and community-care, and our fundamental wholeness and wholesomeness.

Zoom Meeting Link:
https://us02web.zoom.us/j/82952553906

This event is for people who identify as People of Color.