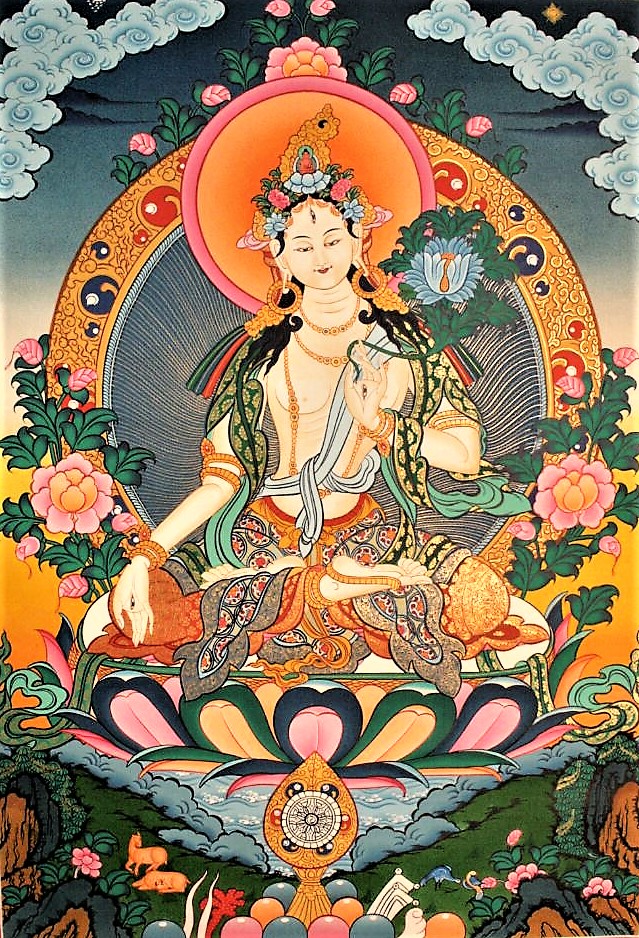 White Tara Practice
with Shastri Jackie Muse
White Tara
Compassion Practice
every Thursday from noon to 1pm (eastern time)
Please join us on Thursdays on Zoom
for the healing, soothing practice of White Tara.
White Tara is a Mahayana Sadhana that is a Compassion practice. White Tara is the expression of our Basic Goodness, our Buddha Nature essence. Tara sends out white light that brings spacious, soothing energy to those who are struggling from stress, pain, illness, disruption and trauma. This self visualization practice helps develop self-compassion so that we will be more available to help others in the world.
Emanated from the tears of the compassionate Avalokiteshvara, peaceful White Tara is said to witness the suffering of beings through her seven eyes, and she soothes their fear, calms their anguish, heals their suffering, restores their health—both individual and communal—and extends their lives.
This is a lineage practice particularly relied upon in times of domestic and community turmoil and disharmony, or in the midst of attacks on health and longevity.
We will do the short daily practice of White Tara composed by the Sakyong. The text will be made visible on the site for those new to White Tara practice. Group practice is open to all.

Just in case the link does not work:
Meeting ID: 834 1066 8354
Passcode: 426760