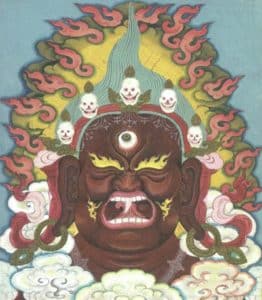 Ekajati: Queen of All Protectors
with Valerie Morvan
Dön season is right around the corner. It is the end of the Tibetan annual calendar and is considered a time when the more negative energies of the year accumulate. It is traditional to do a practice called Pacifying the Turmoil of the Mamos. Part of the practice includes a series of protector chants. Valerie Morvan will introduce us to Ekajati, a dharmapali, described as a wrathful mamo or dakini, who is an especially important protectress of the Ati teachings. She is one of the most powerful and fierce goddesses of Vajrayana Buddhist mythology. During dön season we call her up to help us understand the nondual nature of reality and overcome obstacles.
Valerie Morvan has been teaching Buddhism and Shambhala for 20 years and is a member of the Atlanta Shambhala Center. She was the Center Director for 8 years and during that time oversaw the building of Turquoise Hall. She lives in Atlanta with her husband Nick Thompson.
This image of Ekajati was painted by Chogyam Trungpa Rinpoche, the founder of Shambhala.